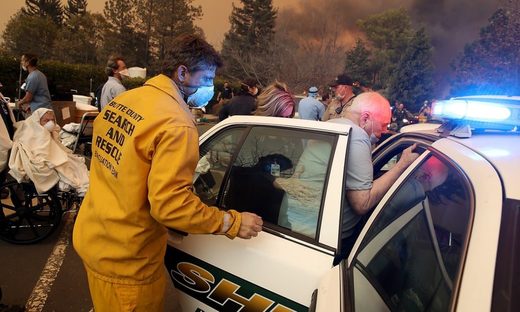 Authorities fear that residents will increasingly ignore repeated calls to flee as devastating wildfires become routine
In 13 months, Meg Brown has evacuated her 3,500-acre family ranch just outside of Oroville three times, as the California wildfires have closed in.
After losing animals and historic buildings on Table Mountain Ranch to the 2017 Cherokee fire, she has a plan to respond to such disasters, and how to decide when to stay or go. In recent days, Brown has worked nonstop to secure her animals and livelihood. She and her mother sleep in shifts to ensure the flames of the Camp fire - the deadliest blaze in California state history -don't surprise them in the middle of the night.
Brown and her mother left at one point after they could see the glow of the fire creeping toward the property but returned after firefighters were able to push the fire back.
That doesn't mean the risk has gone away. High winds have threatened to move the blaze back toward the ranch and the area remains under an evacuation warning. But the Browns have lived through fires before, and they want to do what they can to protect the ranch that has been in the family since the 1930s.
"Last night everybody's like, 'go, go, go'. We went, we looked, we came back because we are exhausted," Brown said. "It is evacuation fatigue."