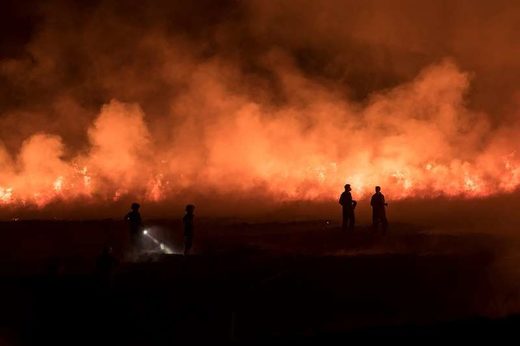 The UK has been hit by nearly a hundred large wildfires in 2019, making it the worst year on record already.
The hot spell in February and the recent Easter heatwave have contributed to a total of 96 major wildfires of 25 hectares or larger, eclipsing the previous high of 79 across the whole of 2018.
Researchers told
New Scientist
that the figures,
collated by the European Forest Fire Information System
, were evidence that climate change had already heightened the risk of wildfires in the UK.
More than 100 firefighters battled wildfires over the Easter weekend across Illkley Moor and Marsden Moor in West Yorkshire.
Another fire broke out on moorland near Marsden
on Tuesday afternoon, requiring ten fire engines to attend.
Fires throughout the year
There were also wildfires in Cornwall, Dorset, Derbyshire, Northern Ireland, the Peak District, Rotherham, Wiltshire and Wales, according to the National Fire Chiefs Council (NFCC).
Scotland was affected by fires across the Highlands, including a large one that posed a "serious risk" to the Moray windfarm.
The spate of blazes follows a series of major wildfires during the hot, dry weather of 2018, including the
Saddleworth Moor fire near Manchester
, which burned for five days and made pollution levels spike.
Paul Hedley, national wildfires lead for the NFCC, said it was "really significant" that the number of large wildfires in 2019 had already overtaken 2018's tally so early in the year.