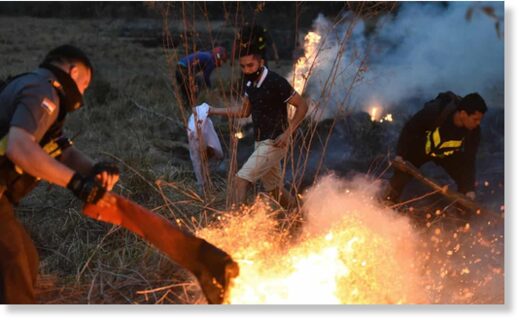 Country faces more than 5,000 fires, with yellow smoke reaching the capital as neighbouring Brazil and Argentina face blazes
Devastating wildfires have broken out across across Paraguay, as drought and record high temperatures continue to exacerbate blazes across South America.
A total of 5,231 individual wildfires broke out across the country on 1 October - up 3,000 on the previous day.
Most of were concentrated in the arid Chaco region in the west of the country, but thick yellow smoke had reached as far as the capital, Asunción.
Paraguay's outbreak came as the southern hemisphere heads into summer and neighbouring countries also face unprecedented wildfires. The Brazilian Amazon is recording its worst blazes in a decade, with numbers up 61% on the widely reported fires of last year, and separate fires in the southern Pantanal region.