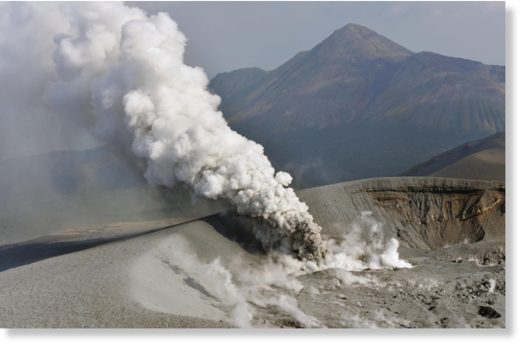 Mount Shinmoe in the Kirishima mountain range bordering Kagoshima and Miyazaki prefectures erupted early Wednesday, marking its first such activity in about six years.
The Meteorological Agency raised the warning level for a volcanic eruption to Level 3, restricting entry to the mountain. It warned the volcano might grow more active, as swelling of the mountain was observed.
Volcanic tremors had been intensifying in the area since late September,
prompting the agency to raise the warning level to Level 2 on Oct. 5 to restrict entry to areas near the mouth of the volcano. Level 5, the highest alert, urges people to evacuate.
The agency said Wednesday's eruption occurred at around 5:34 a.m., with the plume rising about 300 meters above the crater.
The government set up a liaison unit at the prime minister's office to gather information.