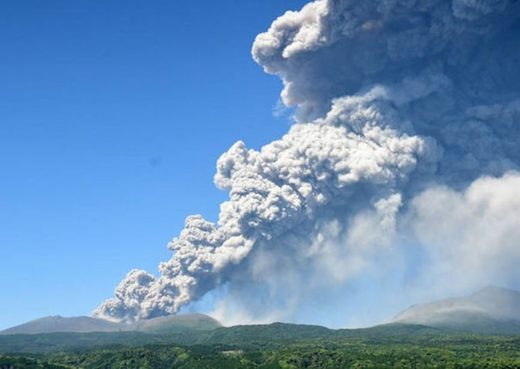 JAPAN's volatile volcano Mount Shinmoedake roared back into life last night, choking out the skies with a monsters column of ash and smoke as high as 4,500m into the sky in the terrifying Ring of Fire region.
The southern Kyushu
volcano
erupted approximately at 2.44pm local time on Monday, belching grey smoke into the sky.
Mount Shinmoedake erupted for the second time since it reared its ugly head on April 6.
Local authorities advised all tourists and residents in the area to stay away amid fears of eruption hazards.
The Japan Meteorological Agency (JMA) in Fukuoka issued a Volcanic Alert Level 3 around the fiery mountain on Tuesday.
The JMA said: "Refrain from approaching the crater in following local municipalities: Miyazaki - Kobayashi-shi, Takaharu-cho and Kagoshima - Kirishima-shi."
A volcanic warning was also issued in the Miyazaki prefecture municipalities of Miyakonojo-shi and Ebino-shi.
A giant plume of smoke and ash blasted from the volcano's summit on Monday, reaching almost 15,000 feet or 4,500m hight.
Residents have been warned of falling rocks within a 1.8 miles radius of the volcano's summit.
Shinmoedake's eruption on Monday marks the
third time the volcano blew since the start of the year.