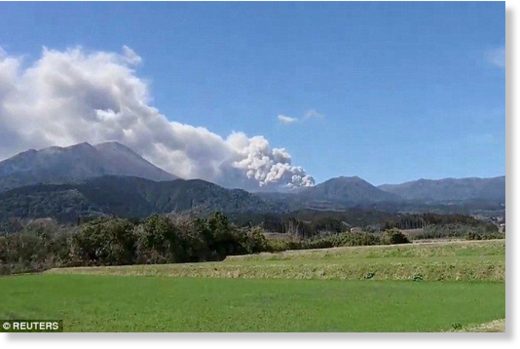 A volcano which was featured in the 1967 James Bond movie "You Only Live Twice" shot smoke and ash thousands of meters into the sky Tuesday, prompting the cancellation of flights to and from a nearby airport. The eruption is likely to continue for some time.
It was the first time in about seven years such explosive activity occurred at the 1,421-meter-high volcano straddling Kagoshima and Miyazaki prefectures, according to the Meteorological Agency. No injuries were reported, local authorities said.
Shinmoedake, located in a largely rural area some 985 km from Tokyo in Kyushu, had been erupting on a smaller scale since March 1. At the time, only access to the peak was restricted.
Due to the recent activity, officials restricted access to the entire mountain, and the danger zone may be expanded Thursday to a 3 kilometer radius from the crater.