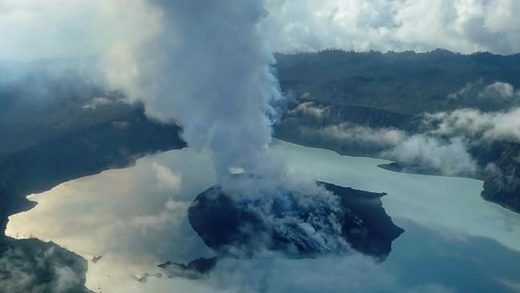 A MASSIVE humanitarian crisis is unfolding on a remote island in the Pacific Ocean after a volcanic eruption sent thick ash bucketing down on everything in sight.
Thousands of people in Ambae, a tiny, idyllic island in the South Pacific nation of Vanuatu, have been ordered to evacuate after a volcano at the centre of the island began to spew out thick ash - which has rained down on villages and
blacked out the sun.
The volcano has been
erupting in bursts since September
, but a new
UNICEF report
this week revealed the situation was becoming increasingly dire for island inhabitants after a surge in volcanic activity.
Local media reports that all roads to the west of the island are cut and
massive mud flows have washed away many roads.
It means the entire west side of the island is accessible only by sea or air, forcing volcano experts examining the terrifying situation to trek for hours to find villages filled with desperate residents who clamour for basic supplies.