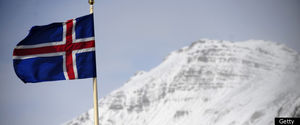 A surge of small earthquakes has been reported around Iceland's Katla volcano, but scientists said Tuesday there is no immediate concern that the increased seismic activity will trigger a dangerous eruption.
Although earthquakes around Katla are common, an increase in cluster earthquakes is not.
"It's one of the most feared volcanos, so we're closely monitoring it," said Pall Einarsson of the University of Iceland. "That said, it's normal for earthquakes to be detected around Katla. What's a bit unusual is that we're seeing swarms of small earthquakes, some occurring every 10 minutes or so."
After flying over the area to monitor the situation Tuesday evening, scientists said they could not yet determine what caused the increased seismic activity. Although they detected signs that Katla was preparing for an eruption, they also emphasized that the volcano had also seen similar activity without erupting before.