Volcanoes
The Kizimen Volcano located on Russia's Kamchatka Peninsula is spewing ash into the skies and creating potential problems for aircraft.


---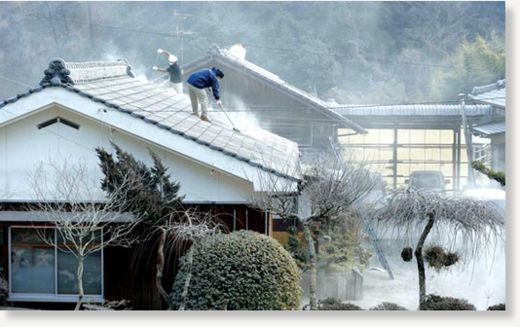 It shot to fame in 1967 thanks to the James Bond film
You Only Live Twice
but now it seems to be vying for the limelight again as it shoots lava into the sky in a diabolical vein.
Japan's Mount Shinmoe was an "extinct" peak way back in the 60s, serving as the perfect observation point for the 007 agent to scrutinise archvillain Ernst Stavro Blofeld in his secret base.
However, in reality the volcano is neither a secret rocket base, nor extinct.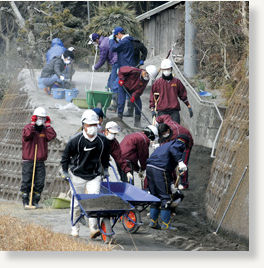 In fact Mount Shinmoe jumped back into action only a few days ago, after 52 years in comatose mode, disturbing air and land traffic as it goes through one of its biggest eruptions as it spews and rocks on Kyushu, the southernmost of Japan's four main islands.
The revamped volcano got back into action on January 27 and in its biggest explosion it managed to break windows eight kilometres away. Officials cannot determine how long the eruptions will continue but some are insisting the cycle could go on for weeks and even intensify.
---
Ryan X
Sott.net
Mon, 07 Feb 2011 21:19 UTC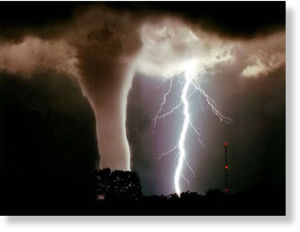 Recent events provide us with a great case study of the cosmic forces that may lie behind large storms such as cyclones, hurricanes, blizzards and much more. The recent events I speak of include the
major blizzard
that swept across the Midwestern and Eastern US as well as the punishment
Cyclone Yasi
inflicted on eastern Australia earlier last week. Both of these storms grew to enormous sizes during a time period that coincided with the Earth being lashed by a solar storm just following a New Moon. As strange as this may sound, this isn't the first time that celestial alignments along side of solar activity have spurred such events. If a correlation between these factors exists, as we suspect, then this overturns much of what is commonly believed about Earth weather and, as we'll see, even geology.
To understand how this all works, let's start with the sun. On January 31st a massive
coronal hole
opened up on the sun, hurling another sledgehammer of charged particles in the direction of Earth. This was due to impact us sometime between February 2nd and February 4th. Not only this, but we recently passed through a new Moon on February 2nd. But why is the Moon of any significance here, one might ask?
As James McCanney explains in an
interview
he did for
Spectrum Magazine
in 2003:
The [New] Moon moves in front of Earth, breaks that electrical flow [between the sun and Earth], and then moves out of the way. It gives us tremendous bombardment after that Moon moves out of the way, the first and second day after the New Moon. That's the condition that has been identified as being one of the leading causes of kicking-off major hurricanes and storms. What it does is: The Moon is interacting with the solar electric field. It's that CHANGE which causes the storms, and causes the environment around Earth to change, and thus affects Earth weather.
So the picture we're painting is this: The sun blasts a massive front of solar wind in the direction of the Earth. As the New Moon moves out of the way of the sun and Earth, this, by itself, creates a significant increase in charged particles hitting the Earth. With the excess of charged particles from this solar storm hitting us near simultaneously, all of this excess charge ends up in the radiation belts surrounding the Earth. The Earth then finds ways to discharge this imbalance such as these two major storms we've seen. One storm takes the form of a massive blizzard covering about half of the US. The other takes the form of a cyclone storm, Yasi, that pounds the already flooded east coast of Australia. Increased volcanic and earthquake activity was also noted during this time as well.
---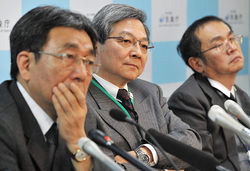 Mount Shinmoedake straddling Miyazaki and Kagoshima prefectures will continue its explosive eruptions over the next couple of weeks, according to a report by the government's Coordinating Committee for Prediction of Volcanic Eruption.
As the 1,421-meter volcano keeps threatening the lives of local residents, the committee met for an emergency executive meeting at the Meteorological Agency in Tokyo on Feb. 3.
"Over the next one to two weeks, the volcano is expected to repeat its explosive eruptions, emitting as much lava as it is at the moment," the committee concluded.
The committee, however, did not make any long-term predictions about what the volcano will do. The panel of volcanologists and other experts will intensify observations and analyses of subterranean magma activities using seismometers and angle meters.
---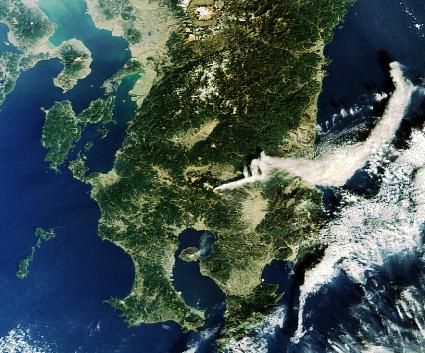 Shinmoedake, which featured in the 1967 James Bond film You Only Live Twice, started erupting on 27 January after being quiet for 52 years. Eruptions spewed ash and smoke as high as 3000 m.
The Sakurajima volcano, further south, is also visible in the image. Sukurajima has been erupting almost constantly since 1955, producing thousands of small explosions every year.
The image was acquired on 4 February at 01:25 GMT by the MERIS instrument in full resolution mode.
---
Stuart Biggs and Chisaki Watanabe
Bloomberg
Fri, 04 Feb 2011 11:35 UTC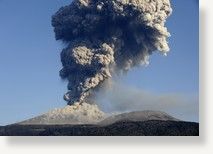 Shinmoedake, a volcano on Japan's southern island of Kyushu, erupted again as the government said it will send officials to the area to help local authorities create an evacuation plan.
The 1,421-meter (4,660 feet) volcano in the Kirishima range erupted at 9:42 a.m. local time following three eruptions yesterday, sending a plume of ash and smoke as high as 3,000 meters, a branch division of the agency said in a
statement
. The plume was drifting east-northeast toward Miyazaki Prefecture's Pacific coastline, the statement said.
The government plans to send a group of natural disaster officials to the area as early as Feb. 7, Shigeo Ochi, an official at the Cabinet Office, said in a telephone interview today. Japan's Meteorological Agency is maintaining a
level 3 alert
for Shinmoedake, indicating an eruption "may seriously affect places near residential areas." Evacuations are carried out when the alert reaches the maximum 5.
---
upi
Wed, 02 Feb 2011 19:13 UTC
Tokyo - Japan's Mount Shinmoe, active for a week, erupted twice Wednesday ejecting lava, smoke and ash that threatened a nearby town, meteorologists said.

The eruptions from the volcano on Kyushu in southwest Japan occurred in the morning, CNN reported. The activity began Jan. 26, the first such in decades, experts said.

In the town of Takaharu, with a population of 1,159, residents were advised to evacuate as volcanic ash covered their homes, streets and vehicles and caused flight cancellations. Hundreds of people had already fled.


---
Taal Volcano in Batangas showed heightened activity anew after at least 10 volcanic quakes around it were recorded in the last 24 hours.

In its 8 a.m. Wednesday bulletin, the Philippine Institute of Volcanology and Seismology (Phivolcs) said the alert level at Taal remains at "1."

"Taal Volcano's status at Alert Level 1 means that a hazardous eruption is not imminent. However, the public is reminded that the Main Crater should be strictly off-limits due to sudden occurrence of steam explosions and accumulation of toxic gases," it said.

Phivolcs said the northern rim of the Volcano's main crater - in the vicinity of Daang Kastila trail - may also be dangerous when increased steam emission is reactivated along existing fissures.

Phivolcs reminded the public that the entire Volcano Island is a Permanent Danger Zone (PDZ), and permanent settlement in the island is strictly not recommended.
---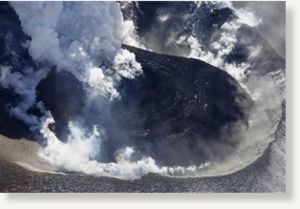 A revived volcano in southern Japan erupted Tuesday with its biggest explosion yet, shooting out a huge plume of gas, boulders and ash and breaking windows 5 miles (8 kilometers) away.
The danger zone around Shinmoedake volcano was widened to keep residents safe. The largest eruption since it burst back to life last week covered wide areas in ash, shot boulders onto distant roads, knocked down trees and broke hundreds of windows in hotels and offices.
No serious injuries have been reported since the initial eruption last Wednesday, but public broadcaster NHK said a woman suffered cuts from shattered glass in Tuesday's blast.
NHK said the eruption was five times larger than the initial activity last week, which was Shinmoedake's first major eruption in 52 years.
Japan's Meteorological Agency has restricted access to the mountain, and on Tuesday broadened the no-go zone to anywhere within a 2 1/2-mile (four-kilometer) radius of the crater. Two lodges and scattered homes are within the perimeter.
Dozens of domestic flights in and out of Miyazaki - about 590 miles (950 kilometers) southwest of Tokyo - were grounded last week and more cancellations followed. Train service was temporarily suspended in the area and many schools closed.
The local government also reported damages to crops.
---
Mount St. Helens, Washington - A series of nine small earthquakes shook an area near Mount St. Helens over the weekend.
Seismologists at the University of Washington have been monitoring the quakes.
A 2.6 quake occurred at 2:26 p.m. on Saturday about six miles north of the volcano. Another quake, a 2.5, occurred at 2:44 p.m. in the same area. The depth for both quakes was two miles. Another quake occurred six miles north-northwest at 10:48 p.m. That measured 2.2 and was 2.2 miles deep.
Smaller quakes, ranging from magnitude 1.3 to 2.2, occurred on Sunday.
---