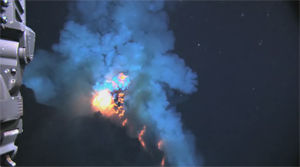 Scientists funded by NOAA and the National Science Foundation recorded the deepest erupting volcano yet discovered, describing high-definition video of the undersea eruption as "spectacular." Eruption of the West Mata volcano, discovered in May, occurred nearly 4,000 feet below the surface of the Pacific Ocean, in an area bounded by Fiji, Tonga and Samoa.
Imagery includes large molten lava bubbles approximately three feet across bursting into cold seawater, glowing red vents explosively ejecting lava into the sea, and the first-observed advance of lava flows across the deep-ocean seafloor. Sounds of the explosive eruption were recorded by a hydrophone and later matched to the video footage.
"We found a type of lava never before seen erupting from an active volcano, and for the first time observed molten lava flowing across the deep-ocean seafloor," said the mission's Chief Scientist Joseph Resing, a chemical oceanographer at the University of Washington who collaborates with NOAA through the Joint Institute for the Study of the Atmosphere and Ocean. "Though NOAA and partners discovered a much shallower eruption in 2004 in the Mariana Arc, the deeper we get, the closer the eruption is to those that formed most of the oceanic crust."