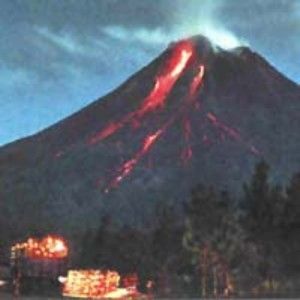 Mount Merapi erupted three times on Tuesday, emitting searing clouds and volcanic ash, a volcanologist said.
Hot ash rained down from the smoke-covered crater, injuring at least 20 people.
"We heard three explosions around 06:00 pm (1100GMT) spewing volcanic material as high as 1.5 kilometres and sending heat clouds down the slopes," government volcanologist Surono told AFP.
Before the latest eruption, people living in the shadow of Indonesia's most active volcano had been warned to evacuate or risk being killed.
Authorities had put an area 10 kilometres around the crater of Mount Merapi on red alert Monday, ordering 19,000 people to flee.
"This eruption is certainly bigger than the 2006 eruption during which the heat clouds occurred for only seven minutes after the eruption," Surono said.