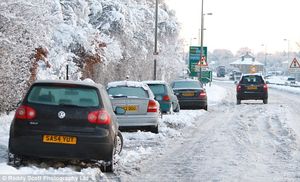 Scotland is in the grip of the 'worst snow and ice conditions since the 1960s'
Transport Minister blames weather advice for 'not meeting requirements'
Snow forces 100 children to spend the night in their school
At least 13 people have now died across Britain in weather-related incidents
Thousands of desperate motorists were left stranded in their cars last night after heavy snow and freezing temperatures brought much of Scotland to a standstill.
Some travellers were stuck in their vehicles for more than 15 hours as Scotland bore the brunt of a fresh wave of ice and snow which left several major routes - including the M8 motorway between Glasgow and Edinburgh - impassable.
The AA said yesterday was one of the busiest days in its history with around 24,000 breakdowns attended - up from 10,500 on a normal Monday.
Scotland's Transport Minister today claimed that the weather advice the authorities had been working on yesterday 'did not meet the requirements'.