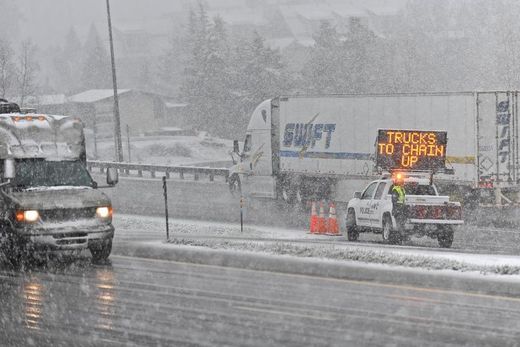 A powerful spring storm dropped more than a foot of sloppy, wet snow in parts of Colorado and Wyoming on Mother's Day, and forecasters warned that instability ahead of the cold front created conditions ripe for tornadoes and severe thunderstorms in the Plains states.
The National Weather Service issued a winter storm warning for most of northern Colorado and parts of southern Wyoming for all of Sunday and for Monday morning. Strong thunderstorms and tornadoes developed in Nebraska and were threatening to push south on Sunday. The storm also created high winds across the West.
Kyle Fredin, a meteorologist for the weather service in Boulder, said the weather pattern is typical for this time of year, and "it's going to be kind of the same thing pretty much through the end of June."
Several tornadoes were reported in southern Nebraska, blowing down outbuildings, damaging homes and knocking out power. Large hail and strong winds seen in the state were expected to head south into Kansas, and a tornado watch was issued for parts of Oklahoma.
The storm was expected to weaken as it heads northeast from the Plains, possibly bringing rain as it moves into the Great Lakes, the weather service said.
In Colorado, Department of Transportation officials said plunging temperatures and heavy, wet snow created icy road conditions, and multiple accidents were reported on several highways.