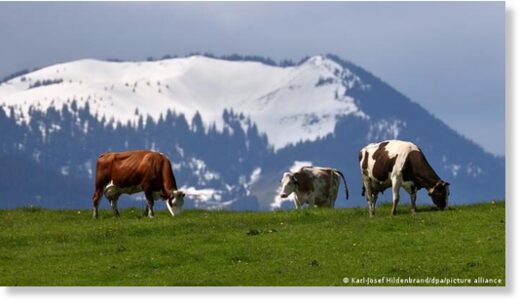 For tens of thousands of cows, their summer grazing in the Bavarian Alps will have to wait. Thick layers of snow are still blanketing their pastures — but the cold and wet aren't all bad, say experts.
Cows in southern Germany will have to stay in their stalls a little longer, as their grazing pastures in the Alps are still covered in snow, German media reported on Sunday.
At this time of year, farmers traditionally begin transporting tens of thousands of cattle up into the Alps for the summer, before driving them back down into the valleys in autumn.
What is the situation?
With pastures covered and mountain roads tricky to navigate, the traditional cattle drive will have to wait, news agency dpa reported.
Local business associations in the regions of Allgäu and Upper Bavaria said most farmers will need to wait another two weeks before releasing their cows into the mountainous pastures.
For areas that are even higher up — some farmers might have to wait until mid-June, the associations said.