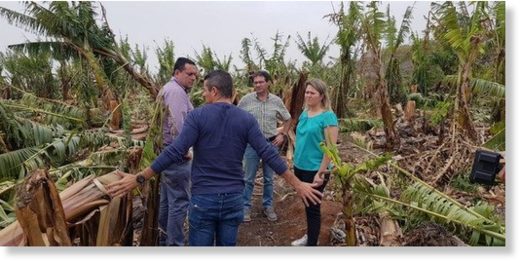 Many crops facing a "lost year"
The assessment of the damage caused by the wind and calima in the Canary Islands is already underway. We will still have to wait a few days to know the full extent of the damage,
but the first impressions of the agrarian leaders point to a heavy impact on all crops grown in the open ground, especially on bananas and potatoes, which in many cases will be facing "a lost year."
For some fruit crops (those cultivated in the places most affected by the wind), not only may the current harvest have been lost
,
but the next campaign is also at risk.
In certain parts of the islands, the effects of the storm on the banana plantations resemble those caused by the tropical storm Delta in 2005, says Javier Gutiérrez, general secretary of the Association of Agricultural Producers and Livestock Farmers of the Canary Islands (Asaga Canarias). In Tenerife, this applies to the farms located in the Orotava Valley, although also to those in part of the south, as well as in La Palma
. The leader of Asaga reports that many banana plantations will have to be uprooted and sown again (if the companies that supply in vitro plants have sufficient stocks), "with the investment that this entails."