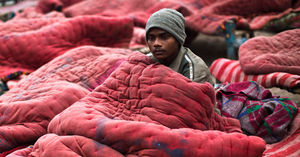 A cold snap which saw temperatures drop to 40-year lows in Bangladesh has killed around 80 people, officials said.
According to AFP, Shah Alam, the deputy head of the weather office, said the lowest temperature was recorded at 3 degrees Celsius in the northern town of Syedpur.
He said the last time the temperature dropped below that level was in February 1968 when Bangladesh was still part of Pakistan.
"The temperature is the lowest in Bangladesh's history," he said.
The Red Crescent said hospitals were packed with patients suffering respiratory illness.
The society's general-secretary Abu Bakar said impoverished rural areas had been worst hit as many people could not afford warm clothing or heating.