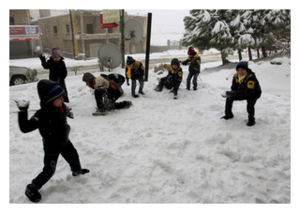 Amman, Jordan - The fiercest winter storm to hit the Mideast in years brought a rare foot of snow to Jordan on Wednesday, caused fatal accidents in Lebanon and the West Bank, and disrupted traffic on the Suez Canal in Egypt. At least eight people died across the region.
In Lebanon, the Red Cross said storm-related accidents killed six people over the past two days. Several drowned after slipping into rivers from flooded roads, one person froze to death and another died after his car went off a slippery road, according to George Kettaneh, operations director for the Lebanese Red Cross.
In the West Bank town of Ramallah, a Palestinian official said two West Bank women drowned after their car was caught in a flash flood on Tuesday. Nablus deputy governor Annan Atirah said the women abandoned their vehicle after it got stuck on a flooded road, and their bodies were apparently swept away by surging waters. Their driver was hospitalized in critical condition.
In the Gaza Strip, civil defence spokesperson Mohammed al-Haj Yousef said storms cut electricity to thousands of Palestinian homes and rescuers were sent to evacuate dozens of people.