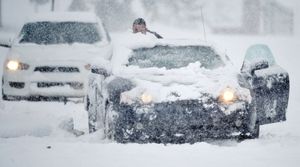 Edmonton police say roads are faring better following the city's near-record snowfall, despite frigid overnight temperatures that left surfaces slick and icy.
The number of crashes recorded so far Thursday morning is down by half compared with Wednesday. Between 6 a.m. and 9:30 a.m., police responded to 23 crashes, including three that caused injuries, compared with 53 crashes, seven of which caused injuries, at the same time one day earlier, said spokeswoman Lisa Sobchyshyn.
Environment Canada reports that Edmonton received between 14 and 31 centimetres of snow, while St. Albert got a whopping 35 cm.
With more than 200 crashes recorded between 6 a.m. and 4 p.m. Wednesday, auto body shops around the city saw a major increase in customers.