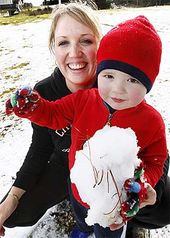 Skiers rejoice as chill hits
Hobart woke to its coldest August morning in 41 years yesterday when the temperature dropped to -0.4C.
Hobart was one of the coldest places in Tasmania, but the freezing temperatures were widespread -- Launceston fell to -2.5C and Liawenee -7.6C.
And while the icy start made life miserable for many, skiers rejoiced.
"It's absolutely fantastic, the best cover we've had for years," Felicity Foot, operator of ski equipment hire firm Ben Lomond Snow Sports, said of the snow.
Ms Foot said the snow fields were further enhanced by new snow-making and grooming equipment and a new "skateboard park" for snowboarders.