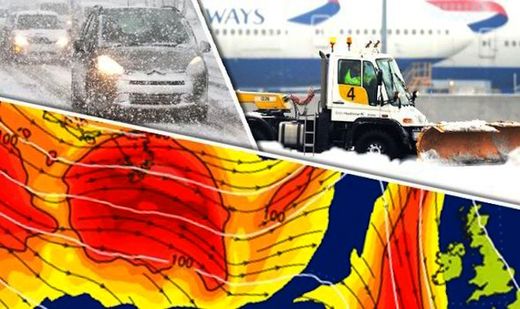 Panicked forecasters raised the alert in the past hour after spotting the freak system on the weather models.Rare in the UK it is identical to the phenomenon which triggered crippling whiteouts and ice storms in the United States.Sparked by the frenzied and volatile behaviour of the jet stream it threatens to bring the fury of the North Pole tearing across the country next week.
Forecasters say temperatures will plunge to below -15C (5F) while feet-deep snow drifts on a par with the worst winters in history are likely.The whole of the UK will be scourged by screaming
Arctic gales and blizzards right through the first half of February
.
A repeat of the historic freeze of 2010 which brought the coldest temperatures on record and ground airports to a standstill, is feared. Weather experts say they have issued a stark warning to emergency services and the Government to take action now.Airports, railway lines and roads are expected to grind to a shivering halt with extreme cold threatening the lives of thousands of people.
Piers Corbyn, forecaster for WeatherAction, warned a "catastrophic" set of circumstances have come together to trigger a lethal spell of weather. He said:
"This could lead to anything, gales, huge snowstorms and the lowest temperatures of winter so far. "We are now 95 per cent certain that the whole of the country will be affected from the start of February
.
"Such is the severity of this situation I have written to the Government's Cabinet Office Briefing Room (COBRA) committee urging them to take immediate action." The terrifying prediction is the result of a deeply meandering jet stream which has been largely responsible for the erratic weather this winter.
At the start of the season forecasters warned this big freeze would hit towards the end of December, but the frenzied deviation of the jet stream nudged it out of the way.The fast-flowing band of air is now poised to shift to a much more southerly position allowing the contents of the North Pole to flood into the UK.Swathes of the UK face knee-deep snow drifts with roads set to turn into deadly ice rinks sparking travel chaos.
Mr Corbyn said: "This is going to be a severely damaging spell of weather, the NHS is thoroughly unprepared and has been lucky up until now as it has not been too severe."But this is about to change dramatically with a displaced Polar vortex likely to dominate the weather for the first half of next month."