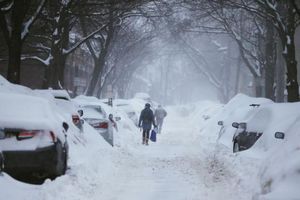 Following a series of record-setting snowfalls, New England on Friday got a new metric for how severe its winter has been:
The town of Alton, New Hampshire called off its annual ice carnival due to a forecast calling for more snow and brutal cold.
"It'll be zero degrees and blowing snow, and that's not a good time for everybody," said Roger Sample, who owns a construction business in the town on the shores of New Hampshire's Lake Winnipesaukee and serves as the carnival's chairman.
The carnival, which Sample said has been held for more than two decades, typically draws about 1,000 visitors out onto the frozen lake's Alton Bay for games and rides, as well as to see small planes that land on the ice.