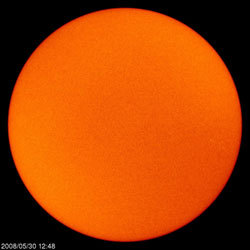 ©Solarcycle24.com
The spotless Sun, as it appeared yesterday at 12:48 p.m. The Sun's spotlessness is giving rise to speculation of another Little Ice Age.
With the debate focused on a warming Earth, the icy consequences of a cooler future have not been considered
You probably haven't heard much of Solar Cycle 24, the current cycle that our sun has entered, and I hope you don't. If Solar Cycle 24 becomes a household term, your lifestyle could be taking a dramatic turn for the worse. That of your children and their children could fare worse still, say some scientists, because Solar Cycle 24 could mark a time of profound long-term change in the climate. As put by geophysicist Philip Chapman, a former NASA astronaut-scientist and former president of the National Space Society, "It is time to put aside the global warming dogma, at least to begin contingency planning about what to do if we are moving into another little ice age."