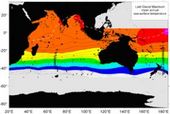 New climate maps of the Earth's surface during the height of the last Ice Age support predictions that northern Australia will become wetter and southern Australia drier due to climate change.
An international consortium of scientists from 11 countries has produced the maps, which appear in this week's issue of
Nature Geoscience
.
Dr Timothy Barrows of the Research School of Earth Sciences at The Australian National University was responsible for the Australian sector of the reconstruction.
"During the last Ice Age - around 20,000 years ago - sea surface temperature was as much as 10 degrees colder than present and icebergs would have been regular visitors to the southern coastline of Australia," Dr Barrows said.
The temperature was estimated by measuring changes in abundance of tiny plankton fossils preserved on the sea floor, together with chemical analyses of the sediment itself.