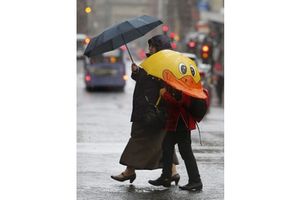 June is on track to be the coldest summer month for more than 40 years as the persistent rainfall and low temperatures blight hopes of a turn to warmer weather.
Scotland's average temperature up until June 15 was 9.3C,
two degrees below normal and the coldest June, July or August since June 1972, Met Office records show.
Forecasters are predicting another 10 days of downpours from next week. But first, another cold front will bring cloud and scattered heavy showers tomorrow, followed by a wet Sunday with hail. Highs of 18C tomorrow will drop to 15C on Sunday.
Met Office forecaster Helen Roberts said: "An Atlantic cold front will bring a lot of cloud and showers, some heavy, on Saturday, and a cooler Sunday with showers."
Forecasters are predicting "generally unsettled" conditions from the middle of the next week for up to 10 days.