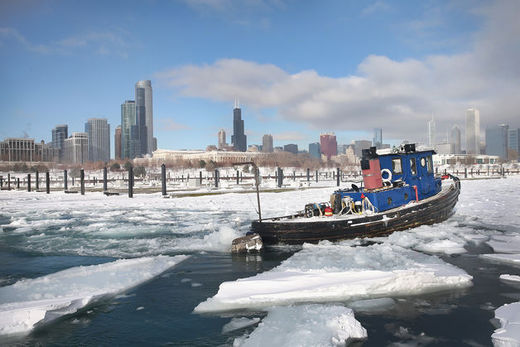 Parts of southern Texas may get a rare coating of ice as temperatures plunging across the U.S. portend an even sharper cold snap to come.
Temperatures across the eastern U.S. and parts of Ontario and Quebec will be at least 8 degrees below normal through Jan. 27, said
Matt Rogers
, president of the Commodity Weather Group LLC in Bethesda,
Maryland
. Next week will be colder, he said.
"The crazy thing is that the current cold snap this week looks to be a bit more modest in the face of next week's outbreak," Rogers said. "The cold coming for the end of January is sufficient to make this the coldest month of the century so far and the coldest the Lower 48 has felt in at least 20 years."
Temperatures in Chicago fell lower than the
South Pole
this month as freezing weather boosted energy consumption, grounded thousands of flights across the U.S. and disrupted operations at refineries and natural gas production sites.
The natural gas-weight heating degree days value for January is expected to reach 1,062.9, higher than the five-year average
of 949.5 and the coldest since 2001, Rogers said.
The value is determined by subtracting the daily average temperature from a base of 65 degrees Fahrenheit, the resulting number is a measure of how cold it is and how much energy is needed to keep homes and warm.
Cold Front
"A wave of low pressure along the cold front currently settling into the southern states is expected to spread a rare coating of ice across southeast
Texas
and southwestern
Louisiana
," the
National Weather Service
said.