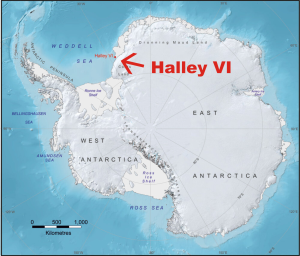 Thirteen members of the
British Antarctic Survey
(BAS) were trapped and in danger of freezing to death when their base, Halley VI, lost power. Power went down on July 30th and is now partially restored. The BAS waited to report the incident until power came back up, however now reports that the incident was so serious that all science activities have been suspended and emergency contingency plans to abandon some of Halley's eight modules and attempt to shelter in a remaining few have been prepared.
The incident is particularly serious,
as the station is likely completely cut off from rescue for months
.
The incident occurred during the height of the Antarctic winter while southern sea ice is at or near record highs
(Marc Morano has details at Climate Depot
).
One Survey member, Anthony Lister, managed to send a out a "tweet" when power came back up, reporting that the outage occurred while the station was experiencing record cold temperatures of -55.4° C (-67.72° F).
(h/t Rai news)