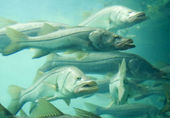 Thousands of dead snook are belly up on the surface in the Tampa Bay area and around the southern half of Florida, with hundreds more still floating up off the bottom along both coasts as the thermometer rises.
"If you went around and looked at some of these fish, you would cry," said Capt. Scott Moore of Anna Maria.
The coldest water temperatures in Tampa Bay since 1989 took a heavy toll on the tropical snook, which died when the water stayed in the low 50s and upper 40s for 10 straight days.