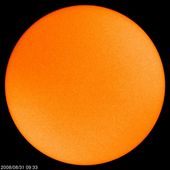 Recently, I appeared as a guest on Lan Lamphere's popular radio program Overnight AM Radio, where the astute host and I spent some time discussing a subject that typically gets short-shrifted in the paranormal community: climate change.
Like many aspects of the world around us, it seems there is much to the nature of this planet that sees little attention in the mainstream media; sometimes, we're lucky if we see anything reported about these subjects at all.
One particular instance that comes to mind here is the way heliospheric phenomenon (solar activity) may be affecting changes here on Earth, or even on other planets. Erratic temperatures - both record highs and lows - are too-often blamed on anthropogenic reasons where humans are considered a prime culprit, where in reality, evidence suggests that humankind's influence may be only one small part of a bigger climatic conundrum.