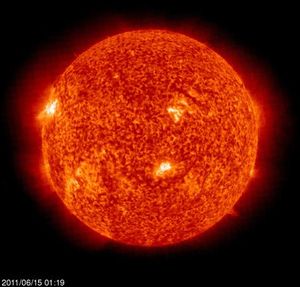 Washington - Sunspot cycles -- those 11-year patterns when dark dots appear on the solar surface -- may be delayed or even go into "hibernation" for a while, a U.S. scientist said on Wednesday.
But contrary to some media reports, this does not mean a new Ice Age is coming, Frank Hill of the National Solar Observatory said in a telephone interview.
"We have not predicted a Little Ice Age," Hill said, speaking from an astronomical meeting in New Mexico. "We have predicted something going on with the Sun."
The appearance of sunspots helps predict solar storms that can interfere with satellite communications and power grids.
Hill and other scientists cited a missing jet stream, fading spots and slower activity near the Sun's poles as signs that our nearest star is heading into a rest period.
"This is highly unusual and unexpected," he said in a statement released on Tuesday. "But the fact that three completely different views of the Sun point in the same direction is a powerful indicator that the sunspot cycle may be going into hibernation."