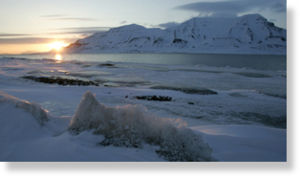 Research published in a top scientific journal says Arctic sea ice has declined more in the last half-century than it has any time over the last 1,450 years.
The study, which gives the most detailed picture ever of the northern oceans over the previous millennium-and-a-half, also concludes the current decline has already lasted longer than any previous one in that period.
"When we look at our reconstruction, we can see that the decline that has occurred in the last 50 years or so seems to be unprecedented for the last 1,450 years," Christian Zdanowicz of the Geological Survey of Canada said Wednesday.
"It's difficult not to come up with the conclusion that greenhouse gases must have something to do with this," added Mr. Zdanowicz, one of the co-authors of the report in
Nature
.