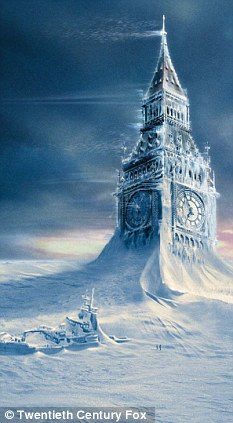 It took just six months for a warm and sunny Europe to be engulfed in ice, according to new research.
Previous studies have suggested the arrival of the last Ice Age nearly 13,000 years ago took about a decade - but now scientists believe the process was up to 20 times as fast.
In scenes reminiscent of the Hollywood blockbuster
The day After Tomorrow,
the Northern Hemisphere was frozen by a sudden slowdown of the Gulf Stream, which allowed ice to spread hundreds of miles southwards from the Arctic.
Geological sciences professor William Patterson, who led the research, said:
'It would have been very sudden for those alive at the time. It would be the equivalent of taking Britain and moving it to the Arctic over the space of a few months.'