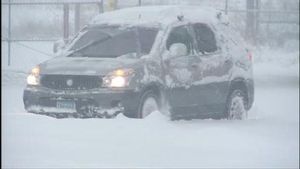 At least this time the Metrodome roof stayed up.
A slow-moving storm more than a foot of snow in parts of the Upper Midwest, making roads treacherous or impassable and leading to at least one fatal crash.
The system dropped 10.6 inches of snow at Minneapolis-St. Paul International Airport and up to 14 inches on parts of the Twin Cities on Sunday, Minneapolis' heaviest snowfall since a blizzard two years ago caused the Metrodome roof to collapse.
This time around, stadium officials resorted to blasting the heat in an effort to melt snow from the roof as quickly as possible.
Blizzard conditions, blowing and drifting snow made visibility so poor that the state Department of Transportation pulled snowplows off some highways in southwest and west Minnesota on Sunday afternoon.
The Minnesota State Patrol reported more than 600 crashes by Monday morning, and at least 1,140 spinouts, according to Lt. Eric Roeske, and driving conditions remained hazardous. One person was killed in a crash involving a semi near Red Wing and injuries were reported in 63 other accidents, the patrol said.