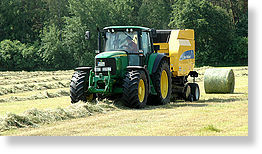 Farmers and drivers are worried about winter returning to Austria. As fields are covered in snow, farmers cannot plough the fields. This will lead to problems with summer crops. A Siberian cold front is sweeping over many parts of Europe. Heavy snow is falling in Moscow, there are winter storms in the Ukraine and the ice-cold weather has paralysed the agriculture in Styria.
The long winter is stopping farmers from working on the fields. Summer crops are especially affected by this. According to Karl Mayer of the Styrian Chamber of Agriculture, the harvest could thus be severely affected. Under normal weather conditions, the summer crops are sowed at the end of February. The latest possible time in the South is the first week of April and the second week of April in North Styria. But even these dates will not be possible this year.
The wet and cold weather also leads to the fact that fields cannot be driven on by tractors at the moment. This is why not only the sowing has to wait but also the fertilisation.