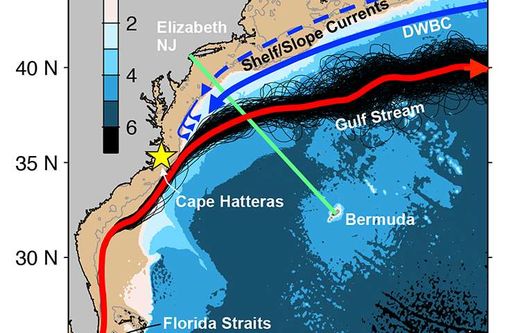 A couple of unexplained large scale changes in the waters off the northeast coast of the U.S. have oceanographers perplexed: an accelerated rate of sea level rise compared to most other parts of the world; and the disturbing signs of collapsing fisheries in the region.
A new study by physical oceanographers at Woods Hole Oceanographic Institution (WHOI), published in the
Journal of Geophysical Research
, shows that
water temperatures in this continental shelf region have been trending upward, with unprecedented warming occurring over the last 13 years
. The study also suggests a connection between sea level anomalies and water temperature along the continental shelf.
"The warming rate since 2002 is 15 times faster than from the previous 100 years," says co-author Glen Gawarkiewicz, a WHOI senior scientist. "There's just been this
incredible acceleration to the warming
, and we don't know if its decadal variability, or if this trend will continue."
The scientists compared their findings with a study of surface waters using data collected by Nantucket Light ship, and other light ships up and down the East Coast between 1880 and 2004, previously analyzed by Steve Lentz of WHOI and Kipp Shearman of Oregon State University.
The new study shows that recent accelerated warming is not confined to the surface waters, but extends throughout the water column.
"Others have reported on the temperature increase in this region," says Gawarkiewicz's colleague, WHOI assistant scientist Magdalena Andres, "but they've been confined to looking at the surface temperatures from satellites or buoys." And Gawarkiewicz and Andres wanted to understand how deep the warming went.
The research is based upon a rare collection of temperature data from the waters off the northeast coast of the U.S
. that were collected in collaborative effort between scientists and the operators of the container ship Oleander, which routinely travels between Bermuda and New Jersey. The effort, which began in the late 1970s with funding from NOAA/NMFS, involved launching bathythermographs along the ship's track to collect temperature data approximately 14 times each year. Later the program was funded through the National Science Foundation and the University of Rhode Island and Stony Brook University. The bulk of the prior analysis has been on velocity data also collected by the Oleander.