Extreme Temperatures
---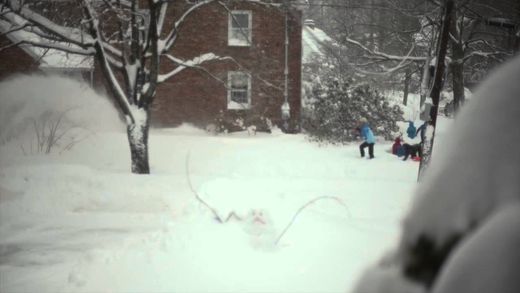 Via Meteorologist Joe D'Aleo
http://icecap.us/index.php/go/joes-blog/latest_storm_likely_to_make_2010s_snowiest_decade_in_noaa_nesis_data_base/
Latest storm likely to make the 2010s the snowiest decade in the east in the NOAA record
By Joseph D'Aleo, CCM (Certified Consulting Meteorologist)
It was quite a storm. I have never seen Logan Airport report heavy snow with an air temperature of 1F (not wind chill) before. The ended up with 15.1 inches. Boxford had 23.8 inches.
Even as more cold and snow invades the central, near the east coast, the post storm blues have set in with the inevitability of an inside runner following rapidly on its heels. But snow loving friends, we have lived through quite a decade and the millennium so far has been a boon to snow lovers
despite the continuing claims that snows are becoming rare and hurting winter sports
as erroneously reported last week in
Boston Magazine
.
We here are using NOAA's own NESIS scale - which we used to call the Kocin/Uccellini storms.
---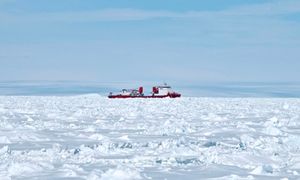 The Chinese icebreaker that helped rescue passengers from the Russian ship
Akademik Shokalskiy
is itself pinned by the ice
The Chinese ship that freed dozens of people from a Russian vessel stricken in the Antarctic has itself become trapped by ice.
The
Xue Long
on Friday night informed the Australian Maritime Safety Authority (Amsa) that the ship had become beset by thick ice, but said the ship and crew were not in danger and had food supplies to last several weeks.
The Chinese ship's helicopter was used in a seven-hour operation to transfer 52 people from the ice-stricken
Akademik Shokalskiy
to the Australian ship
Aurora Australis
on Thursday.

Comment: What a complete farce!


---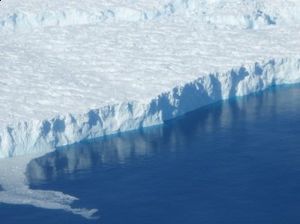 Human CO
2
just not a big deal at Pine Island Glacier
Scientists at the British Antarctic Survey say that the melting of the Pine Island Glacier ice shelf in Antarctica has suddenly slowed right down in the last few years, confirming earlier research which suggested that the shelf's melt does not result from human-driven global warming.
The Pine Island Glacier in West Antarctica and its associated sea ice shelf is closely watched: this is because unlike most of the sea ice around the austral continent, its melt rate has seemed to be accelerating quickly since scientists first began seriously studying it in the 1990s.
Many researchers had suggested that this was due to human-driven global warming, which appeared to be taking place rapidly at that time (though it has since
gone on hold for 15 years or so
, a circumstance which science is still assimilating).
However back in 2009 the British Antarctic Survey sent its Autosub robot probe under the shelf (famously powered by some 5,000 ordinary alkaline D-cell batteries on each trip beneath the ice, getting through no less than four tonnes of them during the research). The Autosub survey revealed that a previously unknown marine ridge lay below the shelf, over which the icepack had for millennia been forced to grind its way en route to the ocean. However in relatively recent times the ice had finally so ground down the ridge that the sea could flow in between shelf and ridge, freeing the ice to move much faster and warming it too.
---
Amy Forliti
wral.com
Sat, 04 Jan 2014 08:51 UTC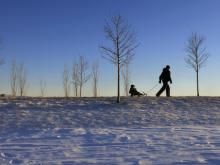 There's cold. And then there's subzero, frostbite cold.
Record-breaking frigid temperatures will blanket the Midwest beginning Sunday, part of a "polar vortex," that one meteorologist says will send piles of North Pole air down into the U.S.
These below-zero temperatures can be dangerous, and officials in several states are warning residents to take precautions. Here's a look at some of the problems that arise when temperatures plummet and how to stay safe if you venture outdoors.
FROSTBITE
At temperatures of 15 to 30 below, exposed skin can get frostbitten in minutes and hypothermia can quickly set in.
"People need to protect themselves against the intense cold," said Dr. Brian Mahoney, medical director of emergency services at Hennepin County Medical Center in Minneapolis. "They have to wear a hat, they have to have face protection."
Mahoney said mittens are better than gloves, layers of dry clothing are best, and anyone who gets wet needs to get inside.
"You can't be wearing high-heel shoes with your toes in nylons," he added. "That's a great way to get frostbite."
---
Peter Cooney
yahoo.com
Sun, 05 Jan 2014 08:35 UTC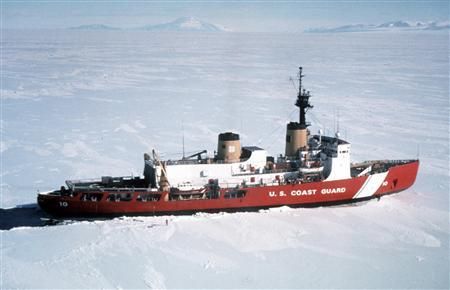 The United States is sending a heavy icebreaker to help free a Russian ship and a Chinese icebreaker gripped by Antarctic ice, the Coast Guard said on Saturday.
The
Polar Star
is responding to a request for assistance from Australian authorities as well as from the Russian and Chinese governments, it said in a statement.
"The U.S. Coast Guard stands ready to respond to Australia's request," Coast Guard Pacific Area Commander Vice Admiral Paul Zukunft said. "Our highest priority is safety of life at sea, which is why we are assisting in breaking a navigational path for both of these vessels."
A Chinese icebreaker that helped rescue 52 passengers from a Russian ship stranded in Antarctic ice found itself stuck in heavy ice on Friday.
The
Snow Dragon
ferried the passengers from the stranded Russian ship to an Australian icebreaker late on Thursday. It now had concerns about its own ability to move through heavy ice, the Australian Maritime Safety Authority said.
The Russian-owned research ship left New Zealand on November 28 to commemorate the 100th anniversary of an Antarctic journey led by Australian explorer Douglas Mawson.
---
Rodrique Ngowi and Michelle R. Smith
yahoo.com
Sat, 04 Jan 2014 08:18 UTC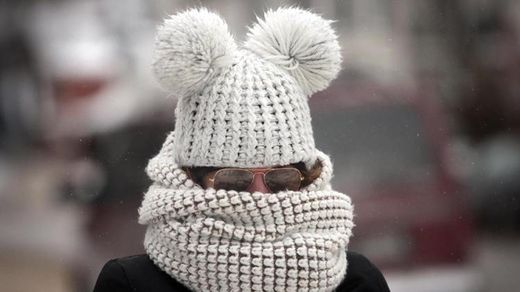 A blanket of white provided the Northeast with little relief from teeth-chattering temperatures that forecasters said will rise over the weekend before plunging again.
At least 16 deaths were blamed on the storm as it swept across the nation's eastern half, including three people who officials said died at least partly because of the extreme cold.
The snowfall had all but stopped by Friday morning in the hard-hit Philadelphia-to-Boston corridor and though the temperatures reached only the teens or single digits, the cold kept the snow powdery and light.
"The snow is easy to move because the air was so cold when it snowed that it's sort of light and fluffy stuff - but, uh, it's cold," Avalon "Nick" Minton said as he cleared the entrance to his garage and sidewalk in Arlington, Mass. "That's the main part. It's cold."
And officials from the Midwest to New England are preparing for another arctic blast in the next few days that could be even worse.
---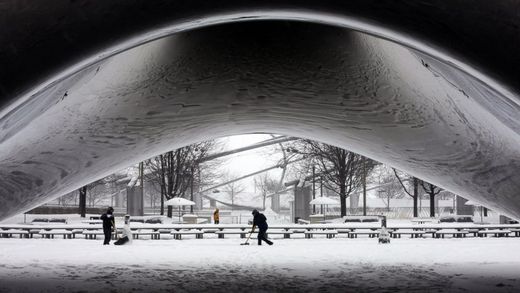 At least 13 deaths have been attributed to the
winter storm
that walloped the Northeast with snow overnight and delivered bone-chilling temperatures today. Much of the Northeast is getting bone-chilling temperatures in the aftermath of the storm.
Several deaths occurred because of bad conditions on the roadways, according to The Associated Press. And in western New York, a 71-year-old woman with Alzheimer's disease reportedly froze to death after wandering from her rural home.
Though most of the snow had stopped falling by this morning, officials continued to warn residents against spending too much time outside.
---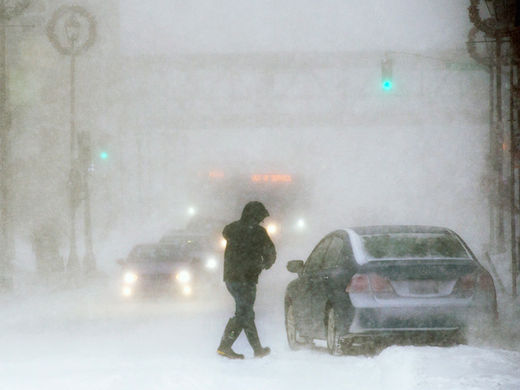 Much of Newfoundland, including in the St. John's area, is in the dark after a fire at a power station early Saturday knocked out power in the province.
Newfoundland and Labrador Hydro's Sunnyside terminal station caught fire causing the Holyrood Generating Station to shut down.
Newfoundland Power on Twitter said that about 125,000 customers are affected and full restoration may not happen until Sunday.
Here's a glimpse into the fire at sunnyside: http://t.co/QUvaCuKV9F -
Ariana Kelland (@arianakelland) January 04, 2014
Newfoundland had already been grappling with rolling blackouts implemented Thursday evening by the utility as it tried to cope with increased demand because of bitterly cold temperatures.
The blackout comes as much of Atlantic Canada spent Saturday cleaning up after a powerful blizzard which is blamed for cancelled flights and dangerous driving conditions.
The weather system whipped through the Maritimes Friday before passing southeast of Newfoundland's Avalon Peninsula overnight.
---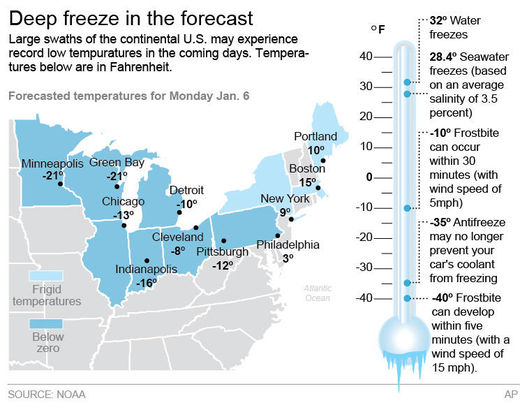 It has been decades since parts of the Midwest experienced a deep freeze like the one expected to arrive Sunday, with potential record-low temperatures heightening fears of frostbite and hypothermia - even in a region where bundling up is second nature.
This "polar vortex," as one meteorologist calls it, is caused by a counterclockwise-rotating pool of cold, dense air. The frigid air, piled up at the North Pole, will be pushed down to the U.S., funneling it as far south as the Gulf Coast.
Ryan Maue, of Tallahassee, Fla., a meteorologist for Weather Bell, said records will likely be broken during the short yet forceful deep freeze - a perfect combination of the jet stream, cold surface temperatures and the polar vortex - that will begin Sunday and extend into early next week.
"
All the ingredients are there for a near-record or historic cold outbreak
," he said "If you're under 40 (years old), you've not seen this stuff before."
Before the polar plunge, Saturday marked the day Earth is the closest it gets to the sun each year. The planet orbits the sun in an oval and on average is about 93 million miles away. But every January, Earth is at perihelion, and on Saturday, it was only 91.4 million miles from the sun.
But that proximity doesn't affect the planet's temperatures, and the predictions are startling: 25 below zero in Fargo, N.D., minus 31 in International Falls, Minn., and 15 below in Indianapolis and Chicago. At those temperatures, exposed skin can get frostbitten in minutes and hypothermia can quickly set in as wind chills may reach 50, 60 or even 70 below zero.
---