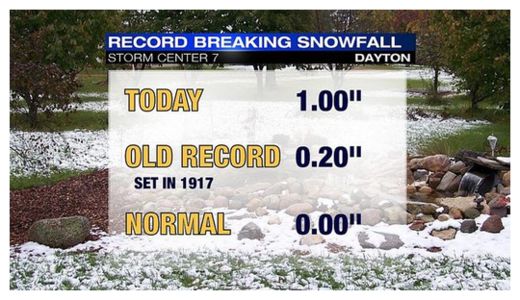 A record daily snowfall was set at Dayton International Airport on Wednesday, Storm Center 7 Meteorologist McCall Vrydaghs said Wednesday evening.
The airport recorded 1 inch of snow, which breaks the previous record of 0.2 inches set in 1917. This is not the earliest snowfall of an inch or more, she said. That record was set Oct. 19, 1989, with a total of 4.8 inches. A dusting or coating of snow had been forecast for the early morning.
The record snowfall comes in advance of a freeze warning for the area that begins at 2 a.m. Thursday and ends at 10 a.m.
Stray rain or snow showers are possible by morning, she said, with a high in the mid 40s. At times, it will feel as though the temperatures are in the upper 30s because of afternoon winds that are expected to reach 10 to 15 mph.
Friday morning will be frosty, Vrydaghs said, and temperatures will plunge to their lowest marks in months.