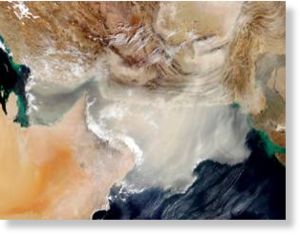 Dust is all that's needed to plunge the world into an ice age. When blown into the sea, the iron it contains can fertilise plankton growth on a scale large enough to cause global temperatures to drop. The finding adds support to the idea of staving off climate change by simulating the effects of dust - perhaps by sprinkling the oceans with iron filings.
Comment:
This is an insane idea, especially when Mother Nature is about to introduce us to
the next Ice Age
without any human intervention.
Iron-rich dust falling on the ocean has long been known to spark blooms of plankton,
and researchers suspect the process could have intensified the ice ages that have occurred over the past few million years.
The thinking goes that, during warm periods, much of the Southern Ocean is an oceanic desert because it lacks the iron crucial for plankton growth. That changes at the start of ice ages, when a wobble in the planet's orbit causes an initial cooling that dries the continents, generates dust storms - particularly in central Asia - and sends dust onto the surface of the Southern Ocean.