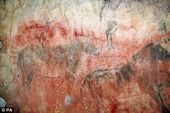 British scientists are set to unlock the secrets of hidden cave paintings which could reveal how humans survived during the changing climate of the Ice Age more than 15,000 years ago.
The paintings, concealed in the caves of northern Spain, will be dated accurately for the first time by experts from the University of Bristol using a new technique based on the radioactive decay of uranium.
A team from the Department of Archaeology and Anthropology has just returned from an expedition to the Cantabria and Asturias regions of Spain, where they removed samples from more than 20 prehistoric painted caves.