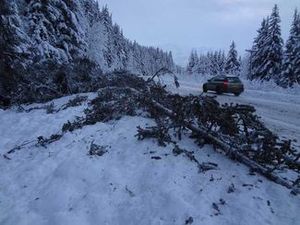 Sunday marked the first measurable snow day in Valdez and it was a record breaker according to the National Weather Service.
A respectable 24.4 inches of snow fell Sunday, beating the old November 10 record of 19.1 inches set in 1994.
But before the Valdez Buccaneer Ski team trades in water skis for snow skis, it is worth mentioning that Sunday also broke the record for precipitation on that date, with the weather service reporting 2.10 inches of rain mixing with that record snow.
"The old record precipitation from November 10 was 1.77 inches from 1976," the weather service website said. "This brings the total precipitation for the year to 86.94 inches...which is the third highest annual total."