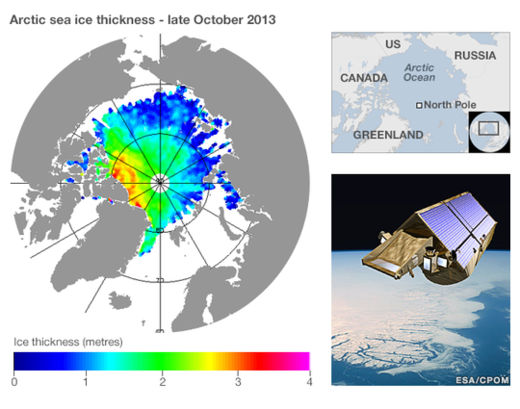 If the oceans have eaten the heat, then it certainly isn't to be found in the Arctic Ocean - that's for sure!
The
Beeb has surprised
today in reporting that Arctic sea ice VOLUME grew a stunning 50%, from 6000 cubic kilometers to approx. 9000 cubic kilometers, from 2012 to 2013, this according to measurements made by the Cryosat probe of the European Space Agency.
Yet another argument of the warmists is melting away.
Data from Europe's Cryosat spacecraft suggests there were almost 9,000 cu km of ice at the end of this year's melt season. This is close to 50% more than in the corresponding period in 2012.
Are sea ice models next in line to be embarrassed?