Single digit lows recorded throughout the province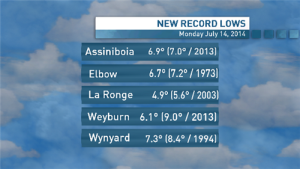 Saskatchewan evenings have definitely been on the cool side lately, with at least five low temperature records falling Monday morning.
Assiniboia, La Ronge, Weyburn and Wynyard all broke July 14 records with single digit overnight lows.
Elbow, meanwhile, was colder this morning than it has been on this date since 1973.
Here are the communities, their Monday low temperatures in Celsius degrees and previous lows:
* Assiniboia
6.9
(7.0, 2013)
* Elbow
6.7
(7.2, 1973)
* La Ronge
4.9
(5.6, 2003)
* Weyburn
6.1
(9.0, 2013)
* Wynyard
7.3
(8.4, 1994)
According to CBC weather specialist Farah Singh, it's all thanks to cool air sweeping down from the north, combined with clear skies that let the heat escape at night.
Sunday was cool in the evening and early morning, too, with cold weather records for July 13 set in Elbow (7.0), Meadow Lake (4.0), Moose Jaw (7.5), Rosetown (6.3), Spiritwood (5.9), Uranium City (4.8) and Weyburn (6.1)