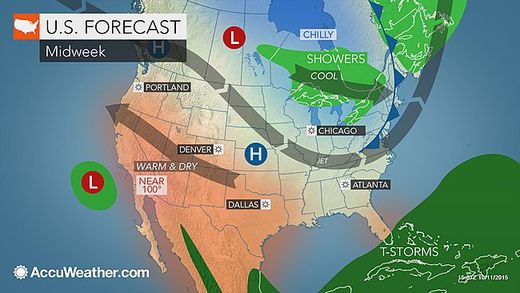 A stretch of higher-than-average temperatures will continue across a large portion of the Western U.S. this week. Temperatures through the weekend will runbetween 10 and 20 degrees Fahrenheit above average for many locations this week. Some cities will challenge record highs.
According to AccuWeather Meteorologist Edward Vallee, "A ridge of high pressure will dominate the West through the week, leading to temperatures 10 to 20 degrees above average." Portions of the West set new record-high temperatures over the weekend.

Downtown Los Angeles reached 100 F for the third straight day on Sunday, the first time such a streak occurred since 1989. The last time Los Angeles had three straight days of triple-digit heat in October was in 1958.
While the coastal areas are expected to cool slightly during the week, the interior portions of the West will remain very warm.
Temperatures this week will be more typical of late August and early September than the middle of October.
The weather will be ideal for anyone with outdoor activities this week.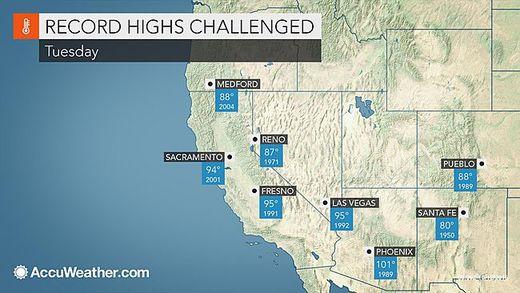 Record-high temperatures will be challenged on Tuesday across the Southwest including the cities of Sacramento and Fresno, California; Reno and Las Vegas, Nevada; Phoenix; Santa Fe, New Mexico; Pueblo, Colorado; and Medford, Oregon. Relief from the warmth will occur across the Southwest later in the week.