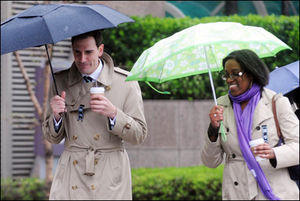 Spring is overdue ― way long overdue. And for office worker Beh Hye-lim, a portable heater is still a must-have item in her office in southern Seoul.
Despite efforts to stay warm, the 27-year-old has been struggling with cold from chilly weather for days.
''Warm rays of sunshine were usual at this time in previous years. But it's literarily freezing,'' she said sneezing.
The entire Korean Peninsula is shivering with a record-low spring chill ― the midday high temperature for Seoul recorded 7.8 degrees Celsius and 6.7 degrees for Daejoen, 170 kilometers south from the Seoul, Wednesday, the lowest for late April since 1908, according to the Korea Meteorological Administration (KMA).
The mercury across the country is forecast to do down further Thursday, with some snow expected in mountainous areas in Gangwon Province.
"The unusual chill is likely to continue until mid May,'' the state weather agency said, adding, ''Rain and accompanying wind made people feel much colder.''
The lowest mid-day temperature for late April in Seoul was 10.1 degrees Celsius, set on April 27, 1962.