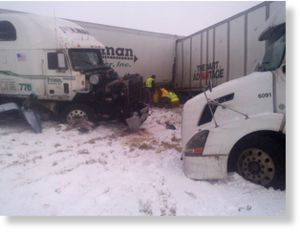 A major snowstorm that was sweeping across the Midwest and beyond on Thursday left at least seven people dead, clogged highways and forced hundreds of flight delays and cancellations at airports already bracing for the holiday rush.
The deaths included a woman in Utah who died trying to walk for help after her car became stuck in the blizzard. Storm-related traffic deaths also were reported in Kansas, Iowa, Wisconsin and Nebraska.
Blizzard warnings were in effect in Iowa, Wisconsin, Minnesota and Illinois, according to the National Weather Service. The Weather Channel reported that parts of 17 states are under winter weather advisories -- as far west as Washington state and as far east as Maine.
The southern edge of the storm system brought winds and damaged homes in Arkansas, the National Weather Service said. Alabama has confirmed that a tornado hit Mobile on Thursday morning, but the tornado's length and intensity were still being assessed. Tornado watches remained in place in Georgia and Florida.
The storm brought much-needed precipitation for drought-plagued regions but was bad news for holiday travelers. Most of the nation's big airlines responded to the storm's threat by enacting flexible rebooking policies for passengers scheduled to fly into the storm's path.
As of 5 p.m. ET Thursday, more than 1,000 flights had been canceled at airports across the Midwest, according to flight-tracking service FlightStats.com.
More than 600 flights were canceled at Chicago's two airports, O'Hare and Midway. Other flights at O'Hare were delayed between 30 and 90 minutes, the city's Department of Aviation reported at 3:30 p.m. CT. FlightAware reported inbound delays averaging 2½ hours because of high winds.
American Airlines announced that it was canceling flights scheduled to depart after 8 p.m. CT and that flights delayed earlier might leave after 8 p.m.
O'Hare is a major hub for both United and American, meaning the disruption could ripple out and affect fliers at other airports.