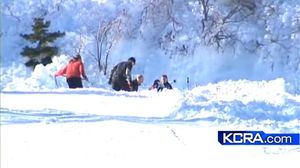 Because of deadly avalanches that killed a snowboarder and a ski patroller, the Sierra Avalanche Center issued a warning Tuesday about "considerable risk" of further slides. Two other skiers were injured in a separate avalanche.
Ski resorts, meanwhile, reported near-record snowfalls and brisk business.
The Avalanche Center advised skiers and hikers to choose their routes carefully, particularly on steep back-country terrain, said Marvin Boyd of the National Weather Service in Reno. He said the Sierra snowpack is weak and vulnerable to collapse after a snowfall of nearly 5 feet since Friday.
On Monday, the body of snowboarder Steven Mark Anderson, 49, a resident of Hirschdale near Truckee, was found by a Nevada County sheriff's search dog beneath 2 to 3 feet of snow at the Donner Ski Ranch.