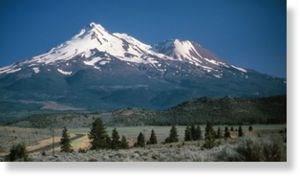 If anyone lived on the summit of California's Mount Shasta, they'd need a mighty big shovel to dig out of the snowstorm that will bury the mountain in astronomical amounts of snow through the weekend -- amounts that could flirt with world records. The Thursday morning
National Weather Service summit forecast
for Shasta predicted an incredible 33 to 39 inches of snow -- just for Thursday alone. (By comparison,
Atlanta, Ga.
, has reported 38.9 inches of snow since March 1, 1989 -- a period of over 23 years.)
But it gets crazier.
Add in another
37 to 43 inches of snow Thursday night,
and additional amounts ranging from 21 to 35 inches
every 12 hours
through Saturday night, plus a light dusting of 11 to 17 inches on Sunday... ...and you get a storm total of 176 inches. On the low end. Add up the high end of the numbers and you get a forecast maximum of
218 inches of snow in four days!