In stark contrast to the mild winter conditions across much of North America, Europe is currently in the grips of its worst cold snap in at least six years. Arctic air has been spilling out of Siberia into Eastern Europe, bringing more than a foot of snow to Istanbul and temperatures as low as -30ºC (-22ºF) in several neighboring countries.
The brutal cold has killed at least 163 people in central and eastern Europe, many of them homeless. In Ukraine, where the death toll now stands at 101, nearly one thousand people have been hospitalized due to frostbite and hypothermia. Temperatures in some parts of the country dropped as low as -33ºC (-27ºF) on Thursday.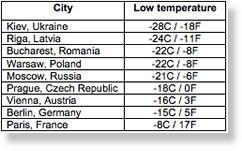 In the mountains of Serbia and Bosnia, some 11,000 villagers remain stranded in their homes after several weeks of heavy snow made roads all but impassable. With over 2 meters (6.5 ft) of snow on the ground, emergency helicopters have begun to airlift food supplies and evacuate villagers in need of medical care. The BBC reports that snow fell across the region almost daily since early January, with more expected over the weekend.