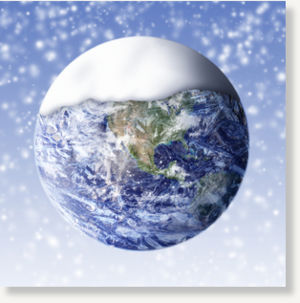 Are you worried about global warming during this unusually mild winter? Geeze, who would have expected to see 75º F March temperatures in Chicago? Or those earlier than usual cherry blossoms in Washington, D.C. which hasn't happened since 1946 (albeit, when atmospheric CO2 concentrations were 310 ppm vs. 385 ppm now)? Even regions of the Southern Hemisphere had a year with practically no winter temperatures.
So was Al Gore right after all? Perhaps you heard...he's been off to Antarctica watching the ice melt along with NASA's famous climate alarmist James Hansen, featured ClimateGate figure Kevin Trenberth, billionaire Richard Branson and about 100 other panicky pals. Their timing is perfect, offering a lot for them to observe.
The Antarctic Peninsula sea ice expanse is nearly 200% greater now than usual.
For those of you here who would have preferred more typical sub-zero temperatures and rampaging tag team blizzards, I've also got some great news. While these conditions bypassed the continental U.S. this year for other locations, don't discard those flannel long johns just yet. There's every indication that you are going to need them over the next many years.
First, for a bit of background perspective, let's realize that climate change is very real, and has been going on for a very long time...dating back to always. It actually began to occur even before the advent of flatulent dinosaurs, industrial smoke stacks and SUVs. And although temperatures have been generally mild over about the past 150 years (since the end of the last "Little Ice Age"...not a true Ice Age), we should remember that significant fluctuations are normal. In fact the past century has witnessed two distinct periods of warming.
The first warming period occurred between 1900 and 1945. Since CO2 levels were relatively low then compared with now, and didn't change much, they couldn't have been the cause before 1950. The second, following a slight cool-down, began in 1975 and rose at quite a constant rate until 1998, a strong Pacific Ocean El Nino year. Yet U.K. Hadley Center and U.S. NOAA balloon instrument analyses
fail to show any evidence, whatsoever, of a human CO2 emission-influenced warming
telltale "signature" in the upper troposphere over the equator as predicted by all U.N. Intergovernmental Panel on Climate Change (IPCC) global circulation models.