Australian scientists set out on Russian ship MV Akademik Shokalskiy
The £900,000 expedition began full of high hopes early last month
But ship was hit on Christmas Eve by a 50-knot blizzard and became trapped in ice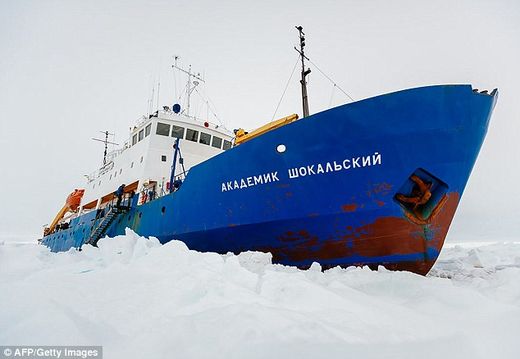 A team of Australian climate scientists set out on a Russian research ship MV
Akademik Shokalskiy
on a mission to raise awareness of global warming.
'The research stakes are high,' claimed a sympathetic report on Australia's ABC TV station.
'Antarctica is one of the great engines driving the world's oceans, winds and weather. But there are ominous signs of climate change . . .'
Up until Christmas, all seemed to be going well. Besides the Russian crew and the Australian climate scientists, the ship's 85-strong company included an Australian Green MP, two environment journalists from the
Guardian
newspaper and a BBC science journalist eager to relay details of the expedition's vital findings which support their gospel of man-made global warming.