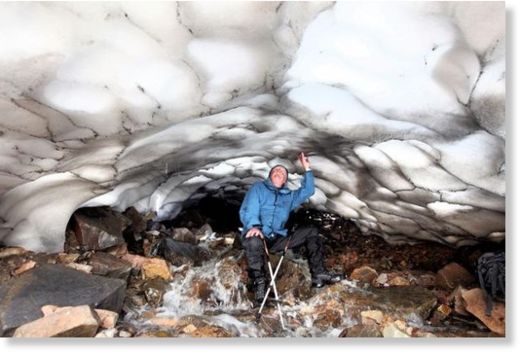 A climber stumbled across a 120-metre snow tunnel on the east side of the Drummochter Pass that has miraculously survived the summer due to its hidden position.
A hillwalker discovered an 120-metre glacial snow tunnel when he went for a summer climb on a Scots mountain.
Les Smith came across the incredible sight in a gully on Carn na Caim - the most northerly of the two Munros on the east side of the Drumochter Pass in the Highlands.
The 69-year-old, from Linlithgow, West Lothian, said: "The tunnel stays in shadow for most of the day and rarely sees the sun. Because of that, the snow is still several metres deep in places and below it, the stream has run through to create this spectacular tunnel. It's like a mini glacier.
"I climbed down to the mouth of the tunnel. With the correct gear you could probably climb the glacier from within."