As the latest blast of arctic air settles southward, many areas in the East will have their coldest day of the winter so far on Thursday.
Throughout the day Thursday, temperatures are forecast to remain below the freezing mark (32 degrees Fahrenheit) from Hatteras, North Carolina, to Atlanta; Birmingham, Alabama; Memphis, Tennessee; and Little Rock, Arkansas. The cold will persist despite sunshine.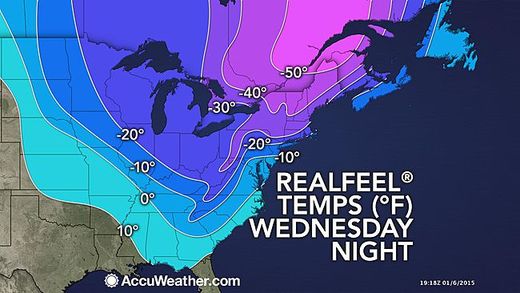 Frigid temperatures at night into Friday will raise the risk of unprotected pipes freezing and bursting.
While chilly air will reach the Florida Peninsula, temperatures will stop short of a damaging frost or freeze in the central and southern counties.
Farther north, the combination of dry arctic air, wind and temperatures will contribute to AccuWeather RealFeel® Temperatures remaining below zero much of the time across the Great Lakes to the Ohio Valley, New England and the interior mid-Atlantic. This will occur after RealFeel Temperatures bottom out to start the day at or below minus 30 F in the northern-tier states.
In the northern states, the cold will be severe enough to bring the risk of frostbite and hypothermia to those spending time outdoors without the proper clothing. Waiting at the bus stop can not only be a painful experience, but a dangerous one.
The cold has been hindering construction projects and causing school delays and closures in some locations.